Defiant Pivac wants to lead Wales to the World Cup
Read Time:
3 Minute, 11 Second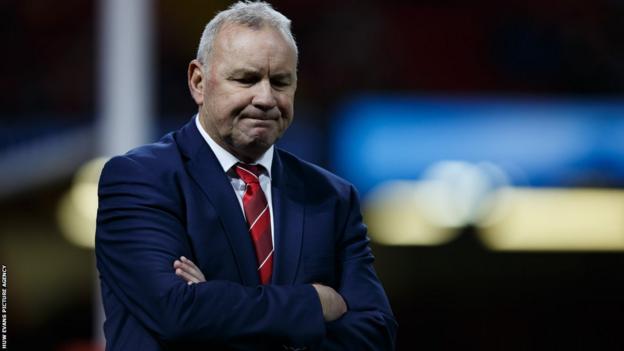 Wales head coach Wayne Pivac says he wants to stay in his job after watching his side lose 39-34 to Australia.
Pivac's side surrendered a 34-13 lead, with the Wallabies scoring 26 unanswered points in the second half.
The Welsh Rugby Union (WRU) will carry out a review but the manager remains defiant as he prepares to travel to France to look at World Cup venues.
"I'm contracted for the World Cup, it's in France and we're flying out tomorrow," Pivac said.
It was the third loss for Pivac's side this autumn, following a 55-23 rout against New Zealand and a 13-12 humbling against Georgia.
Pivac has won just three of 12 games this year and suffered 20 defeats in 34 games during his three-year tenure.
Asked if he thought this year's results were enough to keep him in his role, Pivac said: "I'm just interested in talking about today and getting over what just happened.
"It's disappointing, the result, but there were a lot of good things to take from this game which is positive for us, moving forward."
The New Zealander replaced Warren Gatland after the 2019 World Cup in Japan.
Gatland has been linked with an interim role should a vacancy arise, but on Saturday denied he had been approached by the WRU.
Pivac insisted he wanted to be in charge of next year's World Cup in France.
"I wouldn't be here if I didn't think so," added Pivac.
"The heat had gotten to me during the week, I had to try and take it out on the guys, and they played big parts of this game exactly how we wanted them to.
"We go through all the competitions and we will and we have to take the positives out of them. The things that haven't gone well, we can sort them out.
"I certainly want to stay. You saw today when we do things well, we are a dangerous team.
"We have more players to return to the side and the rest depends on other people."
Pivac believes Wales showed enough intent against Australia in the opening 60 minutes to show they can turn things around under his guidance.
"We got everything we wanted from the start of the game," Pivac said.
"I thought we built the game well and put ourselves in a situation where we should have won the game.
"Obviously we took advantage if their bad discipline and the roles were reversed when they did the same to us.
"It was frustrating for all the players, I can't criticize the effort the boys have put in.
"We said after last week we wanted more physicality and we wanted to come out and express ourselves.
"For large parts we did, but we couldn't take it home."
Pivac guided his side to the 2021 Six Nations title and became the only Wales manager to orchestrate a Test win over the Springboks in South Africa in July 2022.
Reflecting on what has been missing this year, Pivac added: "It's quite funny, we were having a chat in the dressing room.
"There's a lot of luck in this game. When we won the [Six Nations] Championship, we did a lot.
"At the moment it feels, in difficult situations, that no. We just have to keep believing and working because I think that today everyone would agree in this particular performance, there has been a remarkable improvement.
"I'm just focusing on our team and what we asked for during the week and what the players wanted to deliver, and I felt they did that for most of the game.
"It's one of those that's really hard to take on. But rugby can be very cruel at times."