China's Zhengzhou, home of world's largest iPhone factory, ends Covid lockdown | CNN Business
Read Time:
1 Minute, 59 Second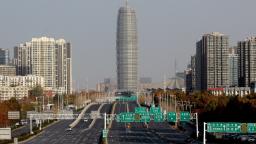 Hong Kong
CNN Business
—

The central Chinese city of Zhengzhou, home to the world's largest iPhone factory, has lifted its five-day Covid lockdown, in a move analysts have described as much-needed relief for Apple and its main supplier Foxconn.
Zhengzhou is the site of "iPhone City," a sprawling manufacturing campus owned by Taiwanese contract manufacturer Foxconn that typically houses about 200,000 workers who produce products for Apple ( AAPL ), including the iPhone 14 Pro and 14 Pro Max. Last Friday, the city closed its urban districts for five days as Covid-19 cases increased.
The large Foxconn facility is not part of the city's urban districts. However, analysts say the shutdown would have been detrimental to efforts to restore lost production at the campus, the site of a violent worker revolt last week.
"This is good news in a dark storm for Cupertino," Daniel Ives, managing director of equity research at Wedbush Securities, told CNN Business, referring to the California city where Apple is headquartered. "There's a lot of work ahead for Apple to get the factories back."
Ives estimates that ongoing supply disruptions at Foxconn's Zhengzhou campus cost Apple roughly $1 billion a week in lost iPhone sales. The trouble began in October when workers left the campus in Zhengzhou, the capital of central Henan province, over Covid-related fears. Short of staff, bonuses were offered to workers to return.
But protests erupted last week when newly hired staff said management had broken its promises. The workers, who clashed with security officers, were eventually offered cash to let them go.
Analysts said Foxconn's production problems will accelerate the pace of supply chain diversification away from China to countries such as India.
TF International Securities analyst Ming-Chi Kuo wrote on social media that he estimated iPhone shipments could be 20% lower than expected in the current October-December quarter. The Zhengzhou plant's average capacity utilization rate was only 20% in November, it said, and was expected to improve to 30% to 40% in December.
According to Kuo, total shipments of the iPhone 14 Pro and 14 Pro Max in the current quarter would be 15 to 20 million units less than previously estimated. Because of the high price of the iPhone 14 Pro series, Apple's overall iPhone revenue in the current holiday quarter could be 20% to 30% below investors' expectations, he added.
.