Microsoft gets its first North American union | CNN Business
Read Time:
2 Minute, 12 Second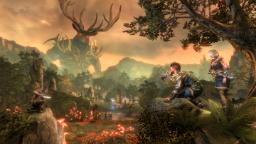 New York
CNN Business
—

Developers at a Microsoft-owned game studio voted Tuesday to form the first U.S. union at the tech giant, in a historic moment for both the company and the video game industry.
About 300 quality assurance workers at Microsoft's ZeniMax Studios voted to unionize with the Communications Workers of America union, according to the CWA. In a statement provided to CNN, Microsoft said it has agreed to recognize the union.
"In light of the results of the recent unionization vote, we are recognizing the Communications Workers of America (CWA) as the bargaining representative for ZeniMax quality assurance employees," a Microsoft spokesperson said. "We look forward to engaging in good faith negotiations as we work toward a collective bargaining agreement."
The company previously told CNN it would maintain a neutral stance toward ZeniMax's organizing efforts, in line with Microsoft's pledge last June to recognize workers' organizing rights.
"Microsoft has fulfilled its commitment to its workers and let them decide for themselves whether they want a union," CWA President Chris Shelton said in a statement. "Other tech and gaming giants have made a conscious decision to attack, undermine and demoralize their own employees when they band together to form a union. Microsoft is charting a different path that will strengthen its corporate culture and its ability to serve its customers and should serve as a model for the industry and as a model for regulators."
Over the past year, the games industry has seen a greater push by workers to improve working conditions following a series of controversies related to grueling work-life balance, pay inequalities, poor job stability and other complaints about the work culture in some of the country's workplaces. larger game studios.
The game studio's organizing efforts also come amid a broader labor awakening that has erupted at major companies in the tech industry and beyond, including retail and warehouse workers at Amazon, Apple and starbucks Some companies like Amazon have so far refused to recognize workers who have voted to form a union.
The union bid at the Microsoft subsidiary, however, stands out from some of the others because of Microsoft's openness to employee organizing efforts. Microsoft last year signed a neutrality agreement with the CWA, which also supports organizing efforts by workers at Activision Blizzard, the gaming giant Microsoft agreed to acquire for $68.7 billion.
The Federal Trade Commission asked last month to block the Activision deal, claiming it would give Microsoft the ability to harm competition in the video game industry. Microsoft has said it believes "this agreement will expand competition and create more opportunities for gamers and game developers."
.