Intel CEO: Chip supply chains will shape geopolitics more than oil for next 50 years | CNN Business
Read Time:
2 Minute, 25 Second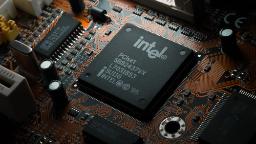 New York
CNN
—

Global politics will be dominated by the availability, trade and investment in microchips for decades to come, Intel CEO Pat Gelsinger told CNN on Tuesday.
The location of the "oil reserves [has] defined geopolitics for the last five decades," Gelsinger said in an interview with CNN's Julia Chatterley at the World Economic Forum in Davos. "Where the technology supply chains are and where the semiconductors are built is more important to the next 5 decades".
Gelsinger said the company's investment in new manufacturing facilities in the United States, Europe and elsewhere is important not only for the company's future, but for the "globalization of the most critical resource for the future of the world".
"We need this resilient and geographically balanced supply chain," he said.
Intel ( INTC ) said last year it would invest $20 billion to build two new chip manufacturing facilities in the United States, as well as up to $90 billion in new European factories, aiming to reaffirm its position as a leader in the semiconductor industry. The announcements also came amid concerns about the concentration of chip manufacturing in Asia, particularly China and Taiwan, during the Covid-19 pandemic and as geopolitical tensions rose. Chip supply chain problems in recent years have led to shortages and delays in shipping everything from desktop computers and iPhones to cars.
"If there's one thing we've learned from the Covid crisis and this multi-year journey we've been on, it's that we need resilience in our supply chains," Gelsinger said, adding that manufacturing investments in Intel aims to "level that playing field". so that good investment decisions can be made".
Gelsinger, who took over as Intel's CEO two years ago during a difficult period for the company, acknowledged that the company's investments in a decades-long strategy come during a difficult economic period.
"It's a short-term economic environment – Covid and China, Ukraine and energy in Europe, inflation in the US – you look at it and ask yourself, 'Where's the good news?' " he said. "But at the same time, we have to make long-term investments, three-quarter economic environments can't dictate five- and six-year capital investment cycles… It's challenging to be a CEO in these days".
A US law passed last year to boost domestic chip manufacturing should help. The CHIPS and Science Act will invest more than $200 billion to help companies grow chip manufacturing and research in the United States.
Now, Gelsinger said, Intel and other chipmakers are waiting for the law's funds to disperse, after President Joe Biden last year led a steering committee including Commerce Secretary Gina Raimondo to determine how to implement the law and deploy the funds.
"We expect to see them this year," Gelsinger said of the CHIPS Act funds. "I'm investing, please come forward with the money. Because we assume it's going to help us make these massive investments."
.