Apple supplier unlikely to resume full operations in India for two months after massive fire | CNN Business
Read Time:
2 Minute, 47 Second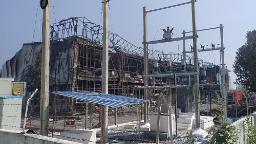 Reuters
—

Most of the fire safety equipment at Apple supplier Foxlink's facility in southern India was not working, a government official told Reuters on Tuesday, a day after a massive fire forced production to halt .
The factory, which makes charging cables for iPhones, is located in the Chittoor district of India's Andhra Pradesh state and is unlikely to resume operations for two months, raising concerns about supply chain for the US tech giant, Reuters reported earlier in the day.
Foxlink was engulfed in a massive fire on Monday which caused part of the building to collapse. There were no casualties.
Except for fire extinguishers, safety systems like smoke detectors, sprinklers and fire hydrants were in faulty condition, leading to a slower response to contain the fire, said J Ramanaiah, who heads the Fire Department of the region.
"The smoke detector didn't go off and the fire alarms didn't go off," Ramanaiah added.
Apple and Foxlink did not immediately respond to requests for comment. The cause of the fire is still under investigation.
Foxlink operates a total of 10 assembly lines at two separate facilities at the Andhra plant, four of which were completely destroyed, a source with knowledge of the situation said. Production on the remaining six assembly lines is expected to resume later this week.
A second source familiar with the developments said Foxlink was a key Apple supplier in India and "there could be potential supply chain disruptions for iPhones made in India or shipped from India ".
Foxlink also exports charging cables and some other equipment to countries including China and Hong Kong, with exports totaling $32.2 million by 2022, according to figures from a private customs data provider.
Last year, data shows Foxlink exported around 7 million USB-C to lightening cables from India, and in January shipped 1.6 million units. Foxlink and Apple did not respond to questions about the customs data. Foxlink's India sales numbers were not immediately clear.
The incident is the latest problem to hit Apple's suppliers in India, where manufacturing and exports are increasingly ramping up. Apple has 11 suppliers in the country.
Production was affected at an Apple contract manufacturer Foxconn facility in 2021 due to food poisoning among workers, and a Wistron India plant was affected by worker unrest in 2020 due to non-payment of wages.
Reuters visited the Foxlink site on Tuesday. Part of the building was completely charred, while residual smoke was still rising from other areas.
Many workers gathered outside the facility, with some concerned about the state of their contract jobs. They told Reuters the fire broke out during the lunch break on Monday and some air conditioners exploded as the fire spread.
"The fire became uncontrollable," said one worker, who declined to be named.
The regional fire department will submit a report on the incident to state authorities, who will then decide whether to form a team to investigate the matter further or not, said Shuvana Sony, area manager of the industrial park where the plant is located. Foxlink.
A police official told Reuters on Monday that there was an estimated loss of $12 million at the factory.
Cupertino, California-based Apple has been betting big on India since it began assembling iPhones in the country in 2017 in line with the Indian government's push for local manufacturing.
.