Mark Zuckerberg looks to 'turbocharge' Meta's AI tools after viral success of ChatGPT | CNN Business
Read Time:
2 Minute, 3 Second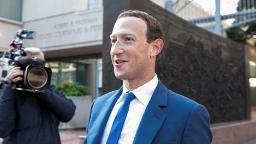 CNN
—

Mark Zuckerberg said Meta is creating a new "top-tier product group" to "turbocharge" the company's work in AI tools as it tries to keep pace with a renewed AI arms race between large technology companies.
In a Facebook post late Monday, Zuckerberg said the new elite group will initially be formed by bringing together teams from across the company currently working on generative AI, the technology that underpins the viral AI chatbot, ChatGPT. That group will "focus on creating delightful experiences around this technology across all of our different products," Zuckerberg said, starting with "creative and expressive tools."
"Longer term, we're going to focus on developing AI people that can help people in a variety of ways," Zuckerberg said. Those AI features may include new Instagram filters, as well as chat tools on WhatsApp and Messenger, he said.
The planned efforts come amid an intense AI frenzy in the tech world, which began in late November when Microsoft-backed OpenAI publicly released ChatGPT. The tool quickly went viral for its ability to generate convincing, human-sounding responses to user prompts. Microsoft later announced that it was incorporating the technology behind ChatGPT into its Bing search engine. A day before Microsoft's announcement, Google unveiled its own AI-powered tool called Bard.
Meta, by comparison, has been quiet so far. Yann LeCunn, Chief AI Scientist at Meta, has expressed some skepticism around the ChatGPT hype. "It's not a particularly big step toward, you know, more like human-level intelligence," LeCunn said in a interview end of last month. "From a scientific point of view, ChatGPT is not a particularly interesting scientific breakthrough," he added.
Generative AI tools rely on large language models that have been trained on large amounts of online data to create written and visual responses to user prompts. But these systems also have the potential to perpetuate bias and misinformation. Already, both Microsoft and Google's AI tools have had controversies for producing inaccurate or strange answers.
As with Microsoft and Google, there are some risks for Meta in adopting this technology. Last year, before the ChatGPT hype, Meta publicly released an AI-powered chatbot called "BlenderBot 3." However, it didn't take long for the chatbot to start making offensive comments.
In his post on Monday, Zuckerberg said, "We have a lot of groundwork to do before we get to the truly futuristic experiences, but I'm excited about all the new things we'll build along the way."
.