Verizon is raising prices on older cell phone plans | CNN Business
Read Time:
1 Minute, 22 Second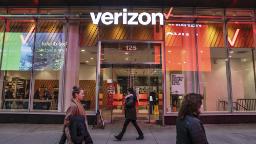 New York
CNN
—

Verizon is raising prices on some of its older cell phone plans, the company confirmed to CNN on Monday. The move is part of a wider effort to get more of its customer base on 5G plans.
Customers who choose to stay with one of Verizon's older Unlimited plans will be charged an additional $2 per month. The change will take effect on April 10.
"Customers currently on, or who choose to remain on, postpaid unlimited wireless plans older than seven years will receive notification of a new rate plan adjustment via email, direct mail and your next bill to account for the added cost of maintaining legacy plans," the company said in a statement.
Plans facing a rate change include Beyond Unlimited, Beyond Unlimited 55+, Go Unlimited and Verizon Unlimited. The company is encouraging customers to upgrade to plans such as 5G Get More, 5G Start and others that offer more "choice" and "flexibility."
The price hike comes as Verizon ( VZ ) looks to grow its consumer unit, a part of the business that is struggling to keep up with competitors. AT&T raised rates last year on some of its older plans to $6 for individual lines and $12 for family plans. Verizon ( VZ ) followed with the same price increases.
Verizon, whose shares are down 30% over the past year, did not say how many customers will be affected by the latest price hike.
Last week, Verizon announced a management shakeup, naming Sowmyanarayan Sampath as CEO of the consumer business unit. Verizon President and CEO Hans Vestberg said the appointments reflect the company's mission to strengthen its "competitive capabilities."
.