The FTC says it is conducting an investigation into Twitter's privacy practices | CNN Business
Read Time:
4 Minute, 14 Second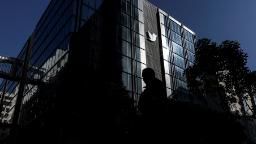 Washington
CNN
—

The Federal Trade Commission has acknowledged a broad investigation into Twitter's privacy practices after a House subcommittee on Tuesday disclosed a dozen letters from the agency to the company seeking information about its operations under new CEO Elon Musk.
The acknowledgment marks a rare public confirmation of an investigation into alleged violations of a settlement by the FTC, which Twitter first signed in 2011, and which was designed to force the company to improve data protection of the users. It also highlights the intense scrutiny surrounding both Twitter and its regulator, as officials try to determine whether settlement violations may have occurred under Twitter's new management, which could widen the company's already extensive legal exposure. company
The investigation could have major ramifications for Twitter's business at a time when Musk is cutting staff and rolling out new paid features to offset steep losses in ad sales and bolster the company's bottom line. If proven, violations of Twitter's consent decree could pave the way for billions in fines, new limitations on Twitter's operations, or even binding duties on Musk or other executives.
Meanwhile, regulators in Europe have repeatedly reminded Musk of Twitter's upcoming requirements under a new content moderation law known as the Digital Services Act, violations of which could lead to fines of up to 6% of Twitter's annual global revenue.
Among other things, the FTC's letters sought testimony from Twitter about its personnel changes due to resignations and layoffs following Musk's takeover of the company, according to the staff report. The FTC asked about Twitter's selective release of internal company data to independent journalists as part of the so-called Twitter Files and demanded that Twitter name journalists to whom Musk had disclosed confidential Twitter information, according to the report .
The report also claims the FTC asked Twitter to produce thousands of Musk-related Slack messages, details of its Twitter Blue subscription program and information about office equipment it reportedly sold as part of its cost-cutting moves. In a dozen letters, the FTC made more than 350 requests for information, according to the report.
The staff report, from a Republican-led House Judiciary subcommittee dedicated to examining the alleged "weaponization" of the US government, claims the FTC's investigation is politically motivated and is being conducted to "harass Musk. (Musk has wooed and found support from a number of Republicans in Congress.) In response, the FTC said in a statement that the investigation is consistent with both the agency's mission and its specific legal duty to fulfill Twitter's promises that it would. safeguard users' personal information.
"Protecting consumer privacy is exactly what the FTC is supposed to do," said agency spokesman Douglas Farrar. "It should come as no surprise that the commission's career staff is conducting a rigorous investigation into Twitter's compliance with a consent order that went into effect long before Mr. Musk bought the company."
The Wall Street Journal, which first reported on the FTC's letters and saw at least one of them, said the FTC is seeking to remove Musk as part of the investigation. Twitter, which has laid off its communications staff, did not immediately respond to a request for comment.
After the House subcommittee's report was released this week, Musk took to Twitter to denounce the agency, calling its investigation a "disgraceful case of weaponizing a government agency for political purposes and suppressing the true".
The consent agreement signed by Twitter in 2011, and updated in 2022 after other alleged violations, requires Twitter to maintain a robust information security program that protects user data. Last year, before Musk completed the acquisition, Accusations from the company's former head of security, Peiter "Mudge" Zatko, raised significant doubts about Twitter's compliance with the deal.
First reported by CNN and The Washington Post, Zatko alleged that during his tenure at the company, Twitter allowed a large number of employees and engineers to make changes to Twitter's live product and interact with data real users without sufficient guarantees. He also claimed that Twitter had misrepresented the state of its security to its board members and regulators around the world. Those accusations led to a Senate hearing and, as the FTC acknowledged this week, a formal investigation into whether Twitter has breached its commitments.
The FTC has hinted for months that it is closely scrutinizing Twitter's conduct. In testimony before the Senate last year, FTC Chairwoman Lina Khan told lawmakers that Twitter executives could "absolutely" be held personally liable if an investigation finds those executives facilitated violations of a consent of the FTC. At the time, Khan did not disclose the existence of such research. At the same time, the FTC said it was "following recent developments at Twitter with deep concern" amid reports that Twitter may have failed to file privacy impact assessments related to changes to its business and product under Musk.
"No CEO or company is above the law, and companies must follow our consent decrees," the FTC said at the time. "Our revised consent order gives us new tools to ensure compliance, and we stand ready to use them."