Rubio wants to block Ford from tax breaks for using Chinese battery technology | CNN Business
Read Time:
1 Minute, 44 Second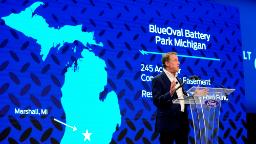 U.S. Sen. Marco Rubio introduced legislation Thursday that targets Ford's deal to use technology from Chinese battery company CATL as part of the automaker's plan to spend $3.5 billion to build a battery plant in Michigan.
Rubio, the top Republican on the Intelligence Committee, introduced legislation that would block tax credits for electric vehicle batteries produced with Chinese technology, saying it would "significantly restrict eligibility for IRA tax credits and would prevent Chinese companies from benefiting from it."
Ford said in response to Rubio that "manufacturing these batteries here at home is far better than continuing to rely solely on foreign imports, as other auto companies do. Only a wholly owned subsidiary of Ford will build, own and operate this plant . No other entity will receive US tax dollars for this project."
Last month, Rubio asked the Biden administration to review Ford's agreement to use CATL's technology.
Rubio called for an immediate Committee on Foreign Investment in the United States (CFIUS) review of the licensing agreement between Ford and CATL.
Rubio said the deal "will only increase America's dependence on the Chinese Communist Party for battery technology, and is likely designed to make the factory eligible for tax credits under the Inflation Reduction Act (IRA)".
CFIUS is an interagency panel led by the US Treasury that reviews proposed transactions to ensure they do not harm national security.
The Treasury declined to comment, but Energy Secretary Jennifer Granholm said last month that the Ford deal "will bring advanced manufacturing capabilities from overseas to the United States that is key to our competitiveness , will stimulate our economy and create good-paying American jobs."
Ford has said the plant would create 2,500 jobs and begin producing lower-cost, faster-charging lithium-iron-phosphate batteries by 2026.
The $430 billion IRA imposes restrictions on battery sourcing and is designed to distance the United States from the Chinese electric vehicle (EV) supply chain. The IRA will eventually disallow credits if any EV battery component was manufactured by a "concerned foreign entity," in a provision aimed at China.
.