Facebook parent Meta plans to lay off 10,000 more employees | CNN Business
Read Time:
2 Minute, 41 Second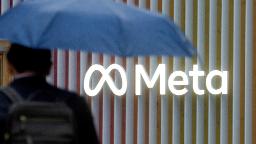 CNN
—

Facebook parent Meta plans to lay off another 10,000 workers, marking the second round of major job cuts announced by the tech giant in four months.
The latest layoffs, announced Tuesday, come after Meta said in November it was cutting about 13 percent of its workforce, or 11,000 jobs, in the biggest round of cuts in the company's history.
In a Facebook post on Tuesday, CEO Mark Zuckerberg said the job cuts will take place "over the next two months."
"We expect to announce restructuring and layoffs in our technology groups in late April, and then in our business groups in late May," he wrote. In "a small number of cases, it may take until the end of the year to complete these changes."
"Overall, we expect to reduce the size of our team by about 10,000 people and close about 5,000 additional open positions that we have not yet hired," Zuckerberg said.
As of September 2022, Meta reported a headcount of 87,314, according to the securities filing. With 11,000 job cuts announced in November and the 10,000 announced Tuesday, that would bring Meta's headcount down to about 66,000.
Meta is far from the only Big Tech company to suffer layoffs amid higher inflation, recession fears and a pandemic-induced hit to demand. In the first few months of this year, Amazon, Google parent Alphabet, and Microsoft have confirmed major job cuts affecting tens of thousands of tech workers.
Meta shares rose more than 4% in early trading on Tuesday after the announcement.
When the first round of job cuts was announced in November, Zuckerberg blamed himself at the time for the company's over-hiring early in the pandemic. Meta almost doubled its workforce between March 2020 and September last year, as the Covid-19 crisis led to an increase in demand for digital services.
But the situation changed dramatically for the social media giant and other tech companies last year as pandemic restrictions eased and people returned to their offline lives. Meta's core business was also hit by privacy changes implemented by Apple and advertisers cutting budgets amid recession fears.
In its latest quarterly earnings report, Meta posted a sharp drop in profits and posted its third straight quarterly decline in revenue. But during the earnings call, Zuckerberg promised investors that 2023 would be the "year of efficiency" for the company, after years of heavy investments in growth and a more immersive version of the Internet called the metaverse.
On that call, Zuckerberg also suggested more job cuts could be coming.
"We closed last year with some difficult layoffs and restructuring some teams. When we did this, I made it clear that this was the beginning of our focus on efficiency and not the end," Zuckerberg said during the earnings call in early February. He added that the company would focus on "flattening " its organizational structure and "remove some layers of middle management to make decisions faster."
"As part of that, we'll be more proactive in cutting projects that aren't working or are no longer as crucial, but my main focus is increasing the efficiency of how we execute on our top priorities," he said Zuckerberg. .
.