Apple posts second consecutive quarterly revenue decline | CNN Business
Read Time:
2 Minute, 21 Second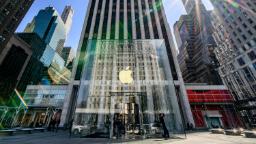 New York
CNN
—

Apple reported on Thursday that its revenue fell 3% to $94.8 billion in the first three months of the year, as consumers cut spending on smartphones and computers due to recession fears.
The company's revenue was slightly better than Wall Street expected, but still represented the second consecutive quarterly revenue decline for the iPhone maker. Apple's net income also fell more than 3% from the year-ago quarter to nearly $24.2 billion.
Apple ( AAPL ) tried to appease investors by announcing up to $90 billion in share buybacks. Shares of Apple ( AAPL ) rose a little more than 1% in after-hours trading Thursday after the results.
Despite the continued decline in revenue, there were bright spots in the report.
Apple CEO Tim Cook said Apple achieved "a record for the iPhone in the March quarter [sales] despite the challenging macroeconomic environment" and that the installed base of active devices reached an all-time high.
Apple also posted a record $20.9 billion in service sales during the quarter. The services business, which includes Apple Music and Apple TV+, is an increasingly important revenue generator for Apple that is less cyclical than hardware sales. Apple now has more than 975 million paid subscriptions to its services, up 150 million from last year, Chief Financial Officer Luca Maestri told analysts on Thursday's analyst call.
Apple's latest quarterly earnings report comes amid a sharp decline in PC and smartphone sales worldwide after a pre-pandemic surge.
Worldwide PC shipments declined 30% in the first quarter of 2023 compared to the previous year, according to Gartner data. Global smartphone shipments fell 14.6% last quarter, according to separate data from market intelligence firm IDC.
Still, the company's better-than-expected sales report "suggests that Apple's premium smartphone business may be insulated from concerns about deteriorating consumer confidence and a worsening the macroeconomic outlook," Investing.com senior analyst Jesse Cohen said in a statement.
Apple's report on Thursday caps a closely watched earnings season for Silicon Valley amid broader economic unease. All five Big Tech companies beat Wall Street estimates, however the the numbers paint a clear picture of the industry right now.
Apple and its peers enjoyed seemingly limitless growth. Now, these companies are struggling to increase sales and profits, or to report declines.
On Thursday, Cook offered his thoughts on artificial intelligence, which many big tech companies have focused on in recent months.
"I think it's very important to be deliberate and thoughtful in approaching these things, and there are a number of issues that need to be worked out … but the potential is certainly very interesting, and obviously we've great progress in integrating AI into our products and services, Cook said. "We see artificial intelligence as huge, and we'll continue to weave it into our products very thoughtfully."
.