US senator introduces bill to create federal agency to regulate AI | CNN Business
Read Time:
3 Minute, 8 Second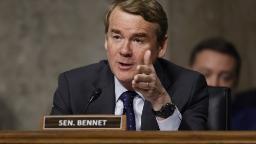 Washington
CNN
—

Days after OpenAI CEO Sam Altman testified before Congress and proposed the creation of a new federal agency to regulate artificial intelligence, a US senator has introduced a bill to do just that .
On Thursday, Colorado Democratic Sen. Michael Bennet introduced an updated version of legislation he introduced last year that would establish a Federal Digital Platform Commission.
The updated bill, which was reviewed by CNN, makes numerous changes to more explicitly cover AI products, including amending the definition of digital platform to include companies that offer "content generated primarily by algorithmic processes." .
"There's no reason the biggest tech companies on Earth should face less regulation than small businesses in Colorado, especially when we see technology corroding our democracy and harming our children's mental health with virtually no oversight Bennet said in a statement. "Technology is moving faster than Congress can hope to keep up with. We need a skilled federal agency that can stand up for the American people and ensure that AI tools and digital platforms work in the public interest".
The revised bill expands the definition of an algorithmic process, clarifying that the proposed commission would have jurisdiction over the use of personal data to generate content or to make a decision — two key applications associated with generative AI, the technology behind popular tools such as OpenAI's viral chatbot, ChatGPT.
And for the biggest platforms — companies the bill calls "systemically important" — the bill would create requirements for algorithmic audits and public risk assessments of the harm their tools could cause.
The bill retains existing language requiring the commission to ensure that the platform's algorithms are "fair, transparent and secure." And under the bill, the commission would continue to have broad oversight authority over social media sites, search engines and other online platforms.
But the added emphasis on AI highlights how quickly Congress is gearing up for policymaking on a cutting-edge technology it's struggling to understand. The debate over whether the US government should establish a separate federal agency to oversee AI tools may become a major focus of those efforts after Altman's testimony this week.
Altman suggested in a Senate hearing on Tuesday that the agency could restrict how AI is developed through licenses or credentials for AI companies. Some lawmakers seemed receptive to the idea, with Louisiana Republican Senator John Kennedy even asking Altman if he would be open to serving as its chairman.
"I love my current job," replied Altman, to laughter from the audience.
Thursday's bill does not explicitly provide for such a licensing program, although it directs the potential commission to design appropriate rules to oversee the industry, according to a Bennet aide. Bennet's office did not consult with OpenAI on either the original bill or Thursday's revised version.
But while some lawmakers have embraced the concept of a specialized regulator for Internet companies, that could conflict with existing policing at the pace of agencies such as the Justice Department and the Federal Trade Commission. , others have warned of the potential risks of creating a new system. bureaucracy
Gary Marcus, a New York University professor and self-described critic of artificial intelligence "hype," told lawmakers at Tuesday's hearing that an independent agency could fall victim to "regulatory capture," a term that describes when industries gain a dominant influence over government agencies. created to hold them accountable.
Connecticut Democratic Sen. Richard Blumenthal, a former state attorney general who has prosecuted consumer protection cases, said no agency can be effective without adequate support.
"I've been doing this stuff for a long time," Blumenthal said. "You can create 10 new agencies, but if you don't give them the resources, and I'm not just talking about dollars, I'm talking about scientific expertise… [industry] it will run circles around it."
.