TikTok CEO says we 'will prevail' against Montana ban | CNN Business
Read Time:
2 Minute, 10 Second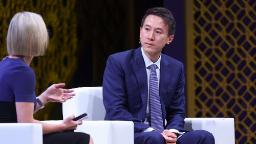 CNN
—

TikTok CEO Shou Chew vowed Tuesday that his company's legal battle against Montana will succeed, after the state passed a law that would ban the app on personal devices starting in January.
In an on-stage interview with Bloomberg at the Qatar Economic Forum, Chew reiterated the company's view that Montana's ban is unconstitutional.
"We believe the Montana bill that was passed recently is simply unconstitutional," Chew said. "And as you pointed out, we very recently filed a lawsuit to challenge this in court. And we are sure that we will succeed."
Chew also acknowledged a separate lawsuit filed by several TikTok content creators last week that claims the state law is unconstitutional.
"They care, because TikTok is really important to them," Chew said, adding that five million small businesses in the U.S. "depend on TikTok."
In response to TikTok's lawsuit, Emily Flower, a spokeswoman for the Montana attorney general, previously told CNN, "We expected legal challenges and are fully prepared to defend the law that helps protect the privacy and safety of Montanans."
Montana's law stems from growing criticism of TikTok over its ties to China through its parent company, ByteDance. Many US officials have expressed fears that the Chinese government could access US data through TikTok for espionage purposes, although there is no evidence that the Chinese government has ever done so. Some federal lawmakers have also called for a ban.
Chew has previously said that the Chinese government has never asked TikTok for its data and that the company would refuse such a request. He has also stressed to lawmakers TikTok's independence from China and sought to increase its ties to the United States.
On Tuesday, Chew said US tech giant Oracle "has begun reviewing" TikTok's source code as part of the company's broader Project Texas initiative, which aims to reassure US government officials that the user data is sufficiently protected against unauthorized access, especially by China. or its agents. Chew described Project Texas as "on track," contrary to a Bloomberg report last week that suggested it had stalled.
Asked to reflect on his experience testifying before a hostile House committee in March, Chew described it as a "good opportunity to explain ourselves."
"I think it was a very important process, and I'm very grateful for the opportunity to come forward and tell our side of the story," he said.
On the subject of artificial intelligence, Chew suggested that "some form of careful and thoughtful regulation is necessary," but that rules should not risk "killing the innovation of something that could be so exciting for all of us."